產品 Products > 50" -56" 風扇燈 Ceiling Fan > 智能燈系列 Smart Light Series > 智能吊風扇燈 Smart Ceiling Fan
HAIKU H-Series Indoor Ceiling Fan 52″ Caramel Bamboo, Satin Nickel Low Profile Mounting ECDC Motor*SenseMe
Brand: BigAss Haiku Fan
HAIKU INDOOR CEILING FAN: 52″, CARAMEL BAMBOO, LOW PROFILE MOUNT: SATIN NICKEL
SKU S3127-S0-BCS-04-02-C-01
Technical Haiku Indoor Specifications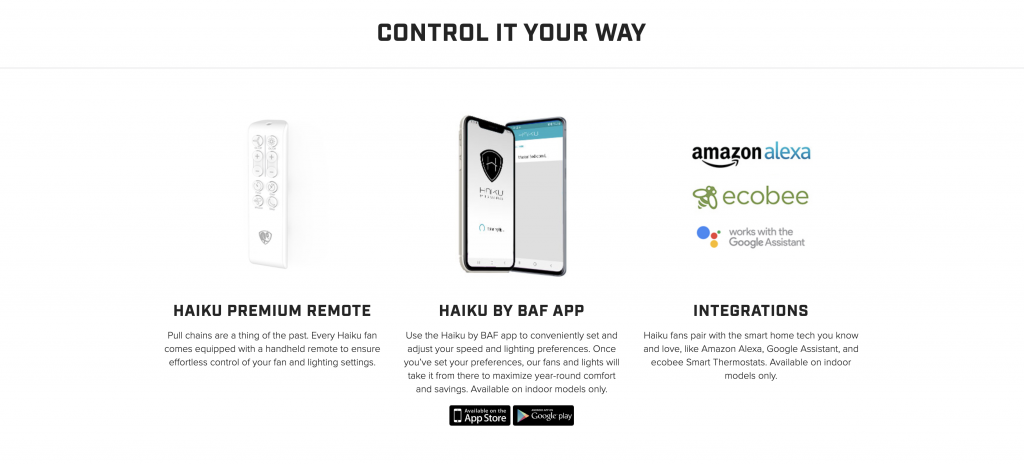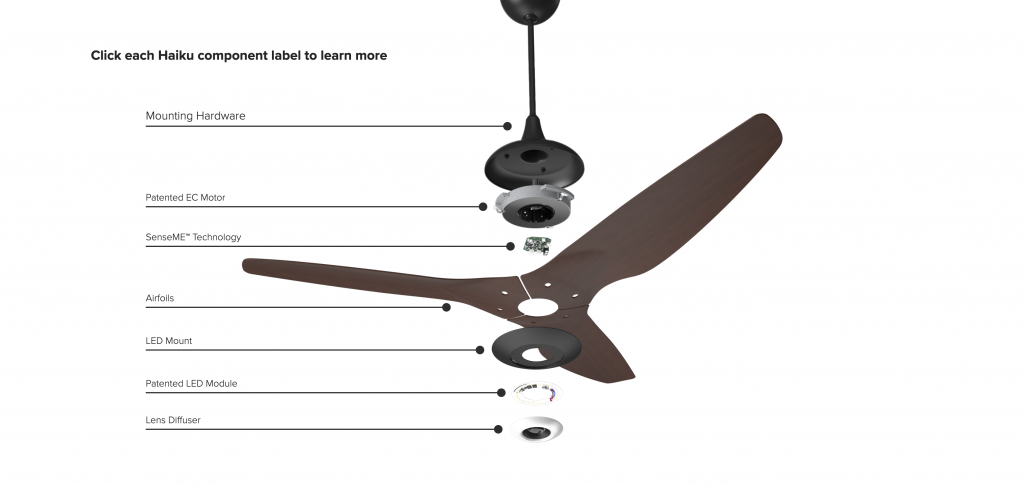 This Haiku Fan includes:
Download SenseMe PDF
* SenseME™ Technology (Learn More)
* Premium Remote
* Smart Home Ready (Amazon Alexa, Google Assistant, Ecobee)
Room Size 15′ x 15′
Ceiling Height 8′ – 9.5′
Ceiling Type Flat
Diameter 52 in
Airfoil Finish Caramel Bamboo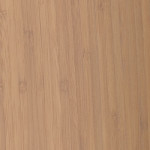 Motor Finish Satin Nickel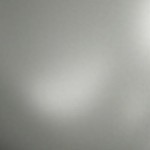 Remote control Included
Environment For indoor use only
Warranty Indoor 1 year Hong Kong Warranty
Installation Guide Haiku Indoor Installation Guide
This Haiku Fan is suitable for: Indoor only
Flat Ceiling 8′ 9.5′
Need setup help? Technical Support
Motor Made in Malaysia / Air Foil Made in USA
Haiku LED Indoor Light Kit (Optional)
Light Source : LED
Light Power : 16.3W
Lumen Output : 1280lm
CRI : 82
Kelvin : 2700k
Dimming range : 3-100%
Haiku fans take style and comfort to an entirely new level. Built with Moso bamboo or aircraft-grade aluminum finishes, these fans establish a new standard for design, technology and convenience.
A Wealth of Options
Available in 52-, 60- and 84-inch diameters, with LED light or without, ENERGY STAR-certified Haiku fans will perfectly fit your home. Haiku's exclusive SenseME technology is also standard on indoor models.
Silence Comes Standard
We want you to see and feel your fan, but never hear it. Haiku's electronically commutated motor silently turns the airfoils, and we hand-balance and sound-test each fan before it leaves the factory.
Versatile Controls
The included remote control conveniently adjusts your fan's seven speeds along with its Whoosh® and Sleep Modes. Pair your indoor SenseME-enabled fan with Amazon Echo or our free mobile app to adjust fan and light settings.
Responsive and Intelligent
With SenseME technology, built-in motion, temperature and humidity sensors allow indoor Haiku fans to respond automatically to changing room conditions for maximum comfort, convenience and energy savings.
Important Note: H Series fans require an active grounding wire.
請注意:安裝BigAss Haiku H Series 安裝位置必須已連接地線(俗稱水線)至MCB
Following Award Winner