商品介紹
會員可專享飛利浦燈飾公價 9折,請即按鍵登入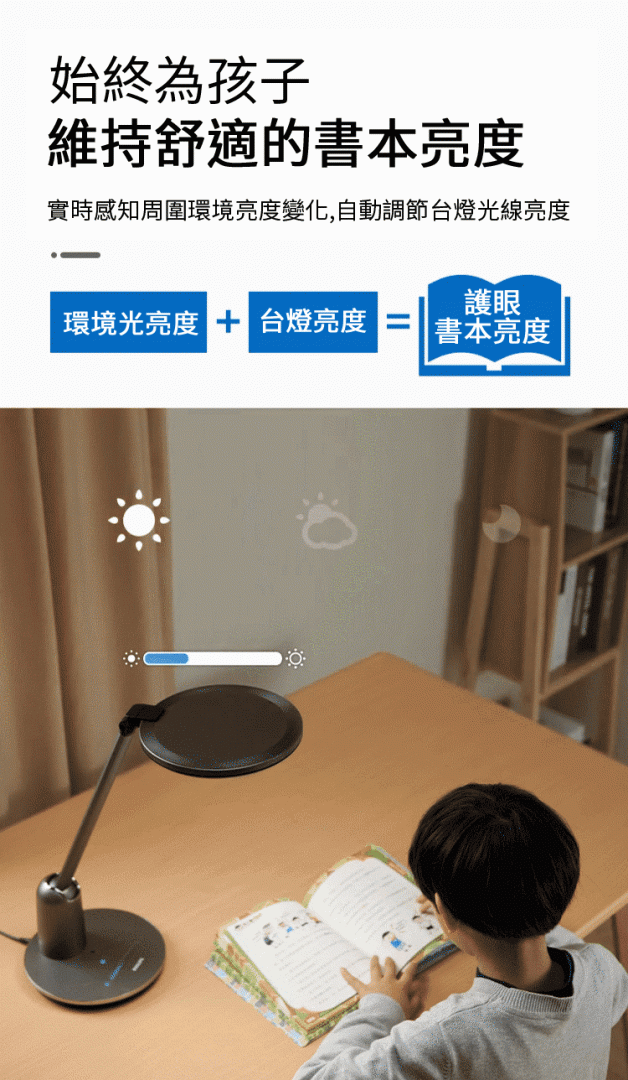 Table lamp
66136 /92/2R3
Table lamp
66136 /92/2R3
The light-emitting panel of this desk lamp adopts a super-curvature honeycomb anti-glare design making the light soft and uniform. It supports three levels of brightness adjustment to meet the needs of different scenarios. This desk lamp supports intelligent light-sensing, and would automatically adjust the brightness according to the surrounding to protect the children's eyes. The color rendering index could go as high as 95, restoring the true colors of everything. You could also set a rest reminder timer and delayed lights-off timer, making it more convenient to use.
Enhanced desk lighting because comfort matters
66136 Einstein
Anthracite
LED
Built-in LED, as part of the system
A light source you can trust. With integrated LED light source, you won't have to worry about maintenance or lamp replacement while having the perfect light ambiance in your home.
Flexibility to direct light where you need it the most
This product allows you to adjust the light to any direction that you like.
Multi-level step dimming
Intuitive multi-level brightness control setting gives you great control over your lights and to create the light ambiance that you need.
Design and finishing
Color: Anthracite
Material: Metal , synthetic
Technical specifications
Lifetime up to: 15,000 hour(s)
Total lumen output fixture: 650 lm
Colour Temp.: 2800K/4200K/5100K
Mains power: Range 220 V – 240 V, 50-60 Hz
Fixture dimmable: Yes
LED: Yes
Built in LED: Yes
Number of bulbs: 1
Maximum wattage replacement bulb: 14W
CRI: >95
IP code: IP20, protection against objects bigger than 12.5 mm, no protection against water
Class of protection: II – double insulated
Function: Super slim design, Brightness auto-calibration, Linear dimming, 40 minutes rest reminder, 30-second delay switch off
Product dimensions & weight
Height: 43.9 cm
Length: 36.5 cm
Net weight: 2 kg
Width: 20 cm