商品介紹
HAIKU INDOOR CEILING FAN: 60″, DIRFTWOOD ALUMINIUM, LOW PROFILE MOUNT: WHITE *LIMITED EDITION
SKU S3150-S0-AW-04-02-C-01-F772
Technical Haiku Indoor Specifications

Handcrafted with premium materials and engineered with cutting-edge smart home technology, Haiku represents the pinnacle in style and innovation for home ceiling fans. More than 75 international awards attest to its quality, while its world-leading efficiency makes it the perfect choice for energy-conscious homeowners.
* 52-, 60-, and 84-inch (132-, 152-, and 213-centimeter) diameter options and 10 luxurious finishes
* Seven airflow speed settings with premium remote control
* Lightweight design and patented brushless DC motor for unmatched efficiency
* SenseMe™ environmental sensors, mobile app control, and voice integration
* Sleep, Timer, Whoosh, and Fan Eco special operational modes
PREMIUM MATERIALS AND FINISHES
Haiku's three airfoils are made from five-layer Moso bamboo or aircraft-grade aluminum and are available in a range of finishes. Each airfoil is hand-selected and laser-measured for matching length, weight, and balance to ensure your space feels as great as it looks.
Moso Bamboo
Haiku's stunning Moso bamboo airfoils are crafted from sustainably harvested materials. With five layers of bamboo, they offer the tensile strength of steel and a calming, natural touch to any space.
Aircraft-Grade Aluminum
Haiku's sleek aluminum airfoils feature the same elegance and efficiency as our bamboo blades in a durable, highly customizable design that never droops or fades, whether indoors or out.
SMARTS THAT ADAPT TO YOUR NEEDS
Haiku made history as the world's first smart ceiling fan. Years later, Haiku is still pacing the field, offering customers the industry's best functionality from a variety of convenient control options.
SenseMe™
The brains within Haiku, our patent-pending SenseMe™ technology monitors your environment with temperature, humidity, and motion sensors and manages your comfort to your specifications. From the Haiku mobile app, users set their ideal comfort preferences and let SenseMe do the rest.
Haiku Mobile App
The Haiku app allows users to change fan speed and light levels, set preferences, schedule routine operations, and enable modes like Fan Eco from the familiarity of their mobile devices.
Smart Home Integration
Haiku's Wi-Fi connectivity enables voice activation with Google Home and Amazon Alexa for hands-free fan and light controls. Integration with ecobee smart thermostats maximizes your home's energy efficiency by automatically maintaining your preferred conditions.

No fan manufacturer goes to greater lengths to create energy-efficient products than Big Ass Fans. It's why businesses worldwide use our fans to cut heating and cooling costs by up to 30% and why designers rely on our ENERGY STAR®-rated models to meet the growing demand for sustainable, LEED-certified projects.
Haiku's Fan Eco mode makes world-leading efficiency possible from the convenience of your mobile device. Using patent-pending technology with Haiku's mobile app, Fan Eco delivers unmatched energy savings and cooling airflow in perfect harmony.
* Activate with just the touch of a button through the Haiku by Big Ass Fans mobile app
* Optimize your fan's efficiency with the ideal balance of airflow and energy use
* Set it, then forget it: effortlessly enjoy lasting energy savings and comfort
* Available exclusively from Big Ass Fans for connected Haiku fans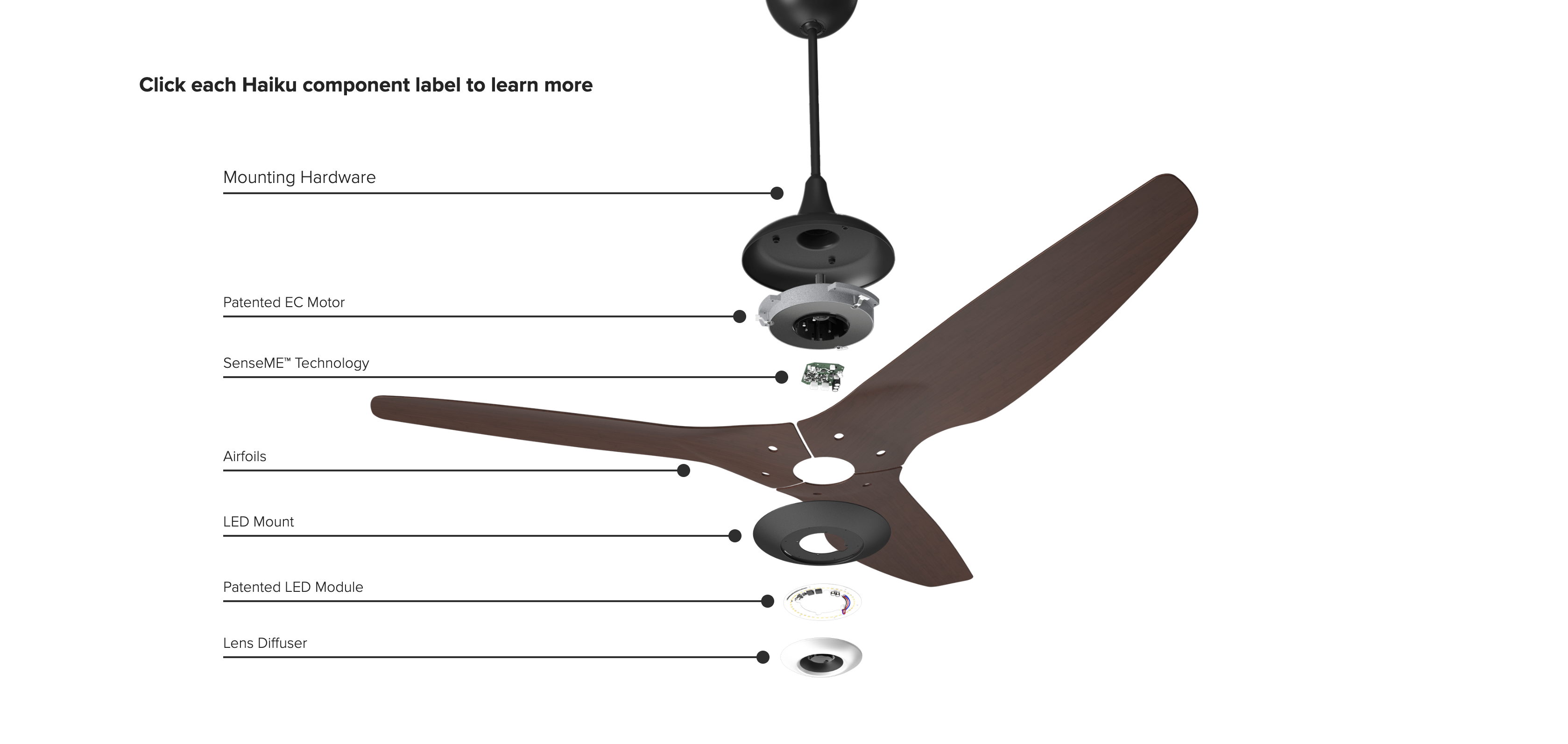 SPECIAL CONTROL MODES
Haiku fans offer advanced functionality with special control modes that can be enabled with your fan's remote control or within the mobile app. Fan Eco, an energy-saving mode activated through the Haiku mobile app, delivers world-leading efficiency unmatched by any other ceiling fan.
Whoosh – Whoosh allows Haiku to simulate a natural breeze by continually varying your fan's speed up and down.
Sleep – Sleep mode gradually reduces your fan's speed over a user-specified period of time, allowing for a gentle sleep that stays comfortable as conditions change.
Timer – Use Timer to set your Haiku to automatically shut off after a specified period of time.
Fan Eco – Fan Eco optimizes your fan's performance using a finely calibrated balance of airflow and energy use, making it the world's most efficient ceiling fan.
This Haiku Fan includes:
Download SenseMe PDF
* SenseME™ Technology (Learn More)
* Premium Remote
* Smart Home Ready (Amazon Alexa, Google Assistant, Ecobee)
* Remote control Included
Room Size 20′ x 20′
Ceiling Height 8′ – 9.5′
Ceiling Type Flat
Diameter 60 in
Fan Height 12.3 in. (312 mm)
Number of fan speeds 7
Operating Voltage 100–125 VAC / 200–240 VAC, 1 Φ, 50–60 Hz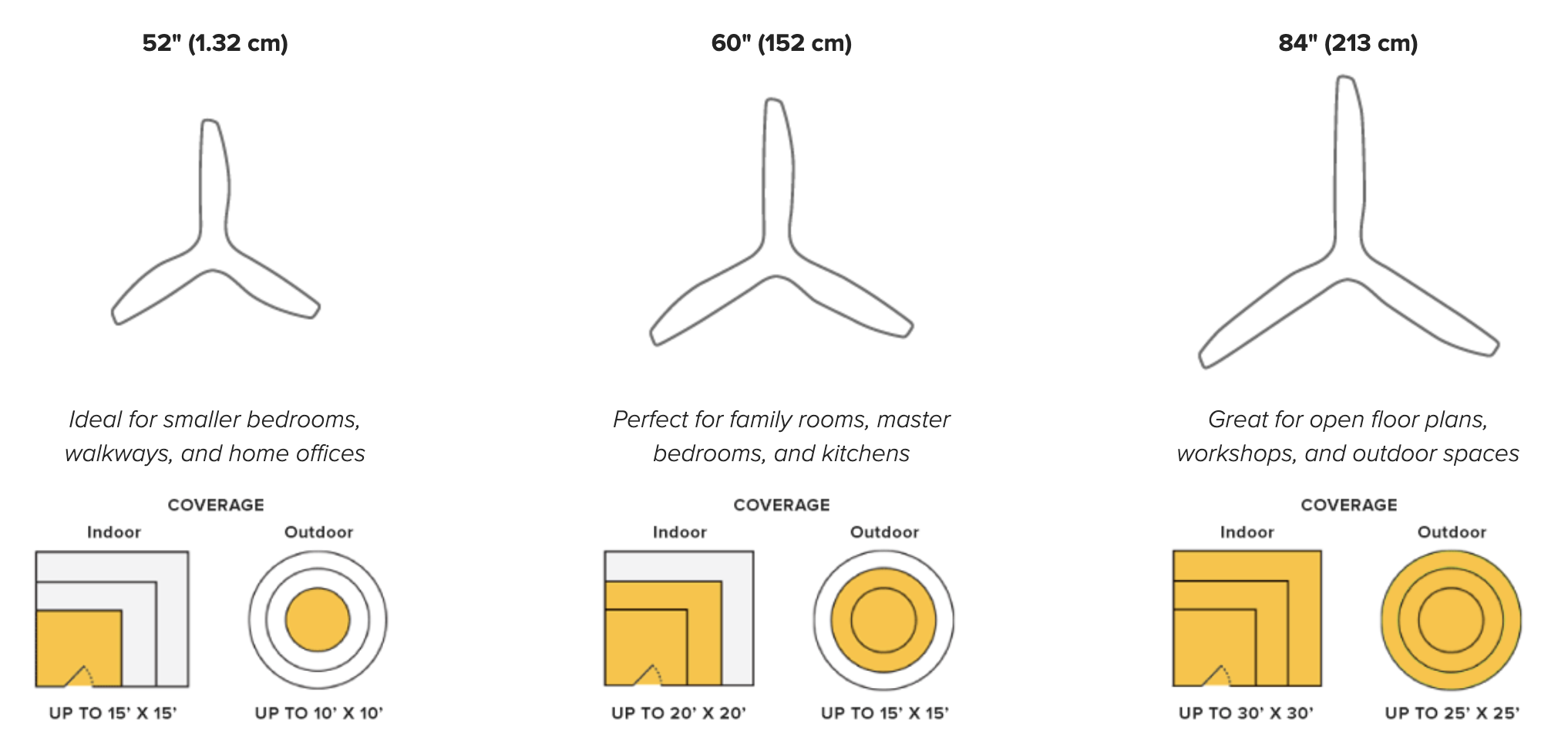 Airfoil Finish Driftwood

Motor Finish White Warranty Indoor 1 year Hong Kong Warranty
Installation Guide Haiku Indoor Installation Guide
This Haiku Fan is suitable for: Indoor only
Flat Ceiling 8′ 9.5′
Need setup help? Technical Support
Motor Made in Malaysia / Air Foil Made in USA
Haiku LED Indoor Light Kit (Optional)
Light Source : LED
Light Power : 16.3W
Lumen Output : 1280lm
CRI : 82
Kelvin : 2700k
Dimming range : 3-100%
Fan Height w/ Light Kit 12.8 in. (325.1 mm)
Additional Price : HK$1,480-
Haiku fans take style and comfort to an entirely new level. Built with Moso bamboo or aircraft-grade aluminum finishes, these fans establish a new standard for design, technology and convenience.
A Wealth of Options
Available in 52-, 60- and 84-inch diameters, with LED light or without, ENERGY STAR-certified Haiku fans will perfectly fit your home. Haiku's exclusive SenseME technology is also standard on indoor models.
Silence Comes Standard
We want you to see and feel your fan, but never hear it. Haiku's electronically commutated motor silently turns the airfoils, and we hand-balance and sound-test each fan before it leaves the factory.
Versatile Controls
The included remote control conveniently adjusts your fan's seven speeds along with its Whoosh® and Sleep Modes. Pair your indoor SenseME-enabled fan with Amazon Echo or our free mobile app to adjust fan and light settings.
Responsive and Intelligent
With SenseME technology, built-in motion, temperature and humidity sensors allow indoor Haiku fans to respond automatically to changing room conditions for maximum comfort, convenience and energy savings.
Important Note: H Series fans require an active grounding wire.
請注意:安裝BigAss Haiku H Series 安裝位置必須已連接地線(俗稱水線)至MCB
Following Award Winner