商品介紹
NordluxTURN Sand Grey Aluminium IP54 Water Proofed Wall Lamp
Specification Sheet
Product description
Imagine a lamp that can be turned freely after installation, creating beautiful effects with light and shades and makes the lamp an illuminating piece of art on the wall. This is exactly what designer, Henrik Bønnelycke, has created. Turn is both playful and sculptural, as the magnetic shade can be rotated 360°, making it possible to illuminate exactly what you want. Turn oozes of Nordic minimalism as it combines modern design and functionality in the most beautiful way. The lamp is resistant to wind and water, and therefore it can be used both outdoors and indoors at the bathroom.
Turn is made of black lacquered aluminium. The light can be dimmed and furthermore, the lamp can be connected in parallel which makes Turn very practical.
* Turnable shade (360°)
* Built-in parallel connection
* Dimmable with wall dimmer
* Designed for both outdoor and bathroom use
Technical Specifications
Bulb base
LED Module
Dimmable?
No, cannot be dimmed
Warmth of light (Kelvin)
Warm white (2700K)
Brightness of light (Lumen)
800
IP degree
IP54
Area
Outdoor
Material
Aluminium
Item Number
2019061001
EAN
5704924000638
TUN
2085848
Area
Outdoor
Type
Wall light
Room
Facade (outdoor)
Bulb base
LED Module
Designer
Bønnelycke
IP degree
IP54
Class (Class 1, Class 2, Class 3)
Class 1 (Earth contact)
Dimmable?
No, cannot be dimmed
Parallel connection
No
Voltage (V)
230
Actual Watt (W)
13.8
Material
Aluminium
Color
Grey
Is the cable replaceable
No
Suitable for Seaside
FALSE
FSC approved
No
Mount directly into insulation
No
Product net weight (kg)
1.05
Brightness of light (Lumen)
800
Color Temperature (K)
2700
Ra-value
80
Lifetime (h)
30000
Beam Angle (°)
120
Energy Class
F
Lightsource incl.
Incl. 13W LED
Width (cm)
15
Lenght (cm)
15
Projection (cm)
8.3
Sales Box Height (cm)
16
Sales Box Width(cm)
15.5
Sales Box Depth (cm)
8.8
Sales Box Volume m³
0.0022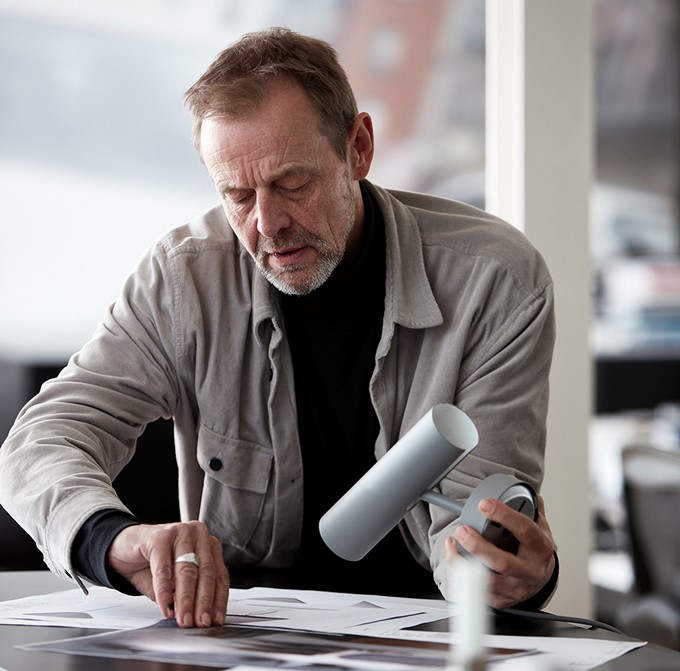 Designer
Bønnelycke MDD
Bønnelycke is driven by an unsurpressable urge and desire to work constructively and innovatively. He started his career in 1988 with the design of lamps, furniture and interior spaces. Quickly, he became known as an unconventional architect with no whims and fancies. "It could be fun" and "of course it can be done" – are phrases often used in his company.
Bønnelycke MDD is a multi-disciplinary design company with both national and international experience.
"We are perfectionists with professional curiosity. We provide a wide variety of design disciplines encompassing architecture and interior design, furniture design and product design to communication assignments, graphic design and web design."