折扣!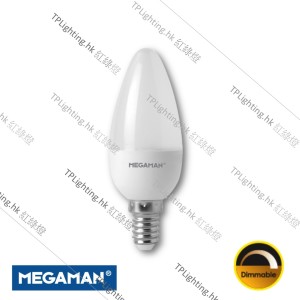 LC0405dv2-28 Candle LED 5W (40W) E14 P35 2800k Dimmable
Brand: Megaman 曼佳美
取代40W
Product Code:
LC0405dv2+E14+828+V0240
Electrical Data
Voltage (V) 220-240V
Power Factor (λ) >0.5
Starting Time (sec) 1,000,000
Mercury Content (mg) N/A
Weight (g) 33
Application Hospitality, Residential
Performance Data
Total Luminous Flux (lm) 460
Rated Life (hrs) 25000
Lumen Maintenance at the End of Lamp Life (%) ≥90
Product Dimensions
Diameter (mm) 35
Length (mm) 100
Remarks
The rated wattage, rated lamp life and rated luminous flux are equivalent to their nominal values, which show on the product packaging.
Technologies
* 
Being able to adjust your LEDs with wide selection of dimming range from 100% to 10% or 20% for perfect atmosphere and/or scene setting – warm and bright, dim and cozy.