商品介紹
PHILIPS HUE E27 White and color ambiance Bluetooth  9W A60 E27 Smart E27 bulb Single Pack
Bluetooth App Control* Hue Bridge Compatible
Works with the Hue Bridge
* White and colored light
* Instant control via Bluetooth
* Control with app or voice*
* Add Hue Bridge to unlock more
Add colour to any room with a single smart bulb, which offers warm to cool white light, as well as 16 million colours. Use Bluetooth for instant light control in one room or connect to the Hue Bridge to unlock the full suite of features.
Technical Specifications
The bulb
Color temperature 2000K-6500K
Diameter 60 mm
Energy efficiency label A+
Fitting E27
Form factor A60
Height 110 mm
Input voltage 220V-240V
Lifetime 25,000 hour(s)
Light output 16 million colors
From warm to cold white color
High quality white light
Lumen output 806 lm @ 4000K
Max. operation power 9 W
Max. standby power 0.5 W
Number of switching cycles 50,000
Rated lifetime 25,000 hour(s)
Software upgradable Yes
Start up instant 100% light output
Wattage equivalent 60 W
Communication protocol Bluetooth and Zigbee
Deep dimmable Yes
Software upgradable
When connected to Bluetooth App or Hue Bridge
Bright light for both function and mood
With light coverage over its total length and a high output of 1,600 lumen, Philips Hue strip lights provide enough light to be used both as a decorative and functional light source.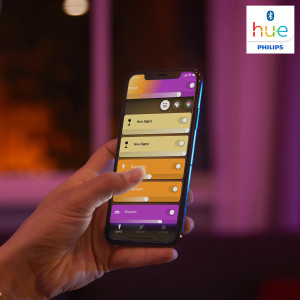 Control up to 10 lights with the Bluetooth app
With the Hue Bluetooth app, you can control your Hue smart lights in a single room of your home. Add up to 10 smart lights and control them all with just the touch of a button on your mobile device.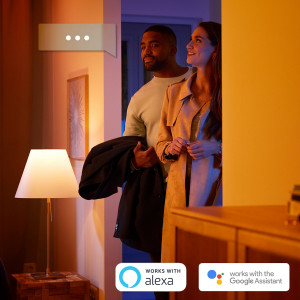 Control lights with your voice*
Philips Hue works with Amazon Alexa and the Google Assistant when paired with a compatible Google Nest or Amazon Echo device. Simple voice commands allow you to control multiple lights in a room, or just a single lamp.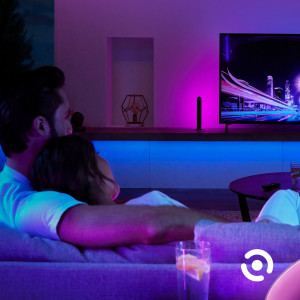 Create a personalised experience with colourful smart light
Transform your home with over 16 million colours, instantly creating the right atmosphere for any event. With the touch of a button, you can set a festive mood for a party, turn your living room into a movie theatre, enhance your home decor with colour accents, and much more.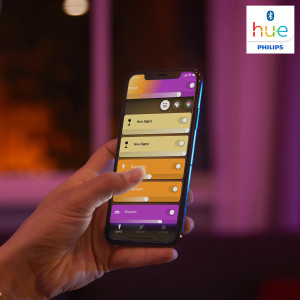 Set the right mood with warm to cool white light
These bulbs and light fixtures offer different shades of warm to cool white light. With complete dimmability from bright to low nightlights, you can tune your lights to the perfect shade and brightness of light for your daily needs.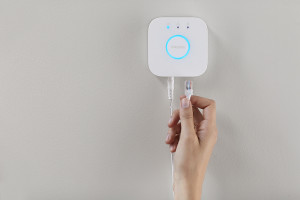 Unlock full suite of smart light features with Hue Bridge
Add a Hue Bridge (sold separately) to your smart lights to experience the full suite of Philips Hue features. With a Hue Bridge, you can add up to 50 smart lights to control throughout your home. Create routines to automate your entire smart home lighting set-up. Control your lights while away from home or add accessories such as motion sensors and smart switches.
Amp your entertainment with smart lighting
Immerse yourself in your movie, game, or music with the magic of light. With millions of colours from which to choose and countless lighting options, you can turn any living room into a private cinema – all you need to bring is the popcorn!