商品介紹
Nanoleaf A60
智能可調式白色和色彩 LED 燈具
智能燈具是智能家居重要的一環,可以將我們與世界聯繫
Circadian Lighting
Improve Your Well-being, Sleep and Mood
The sun is a great regulator of our mind and our body, so we've recreated that experience for you to enjoy inside your own home. Nanoleaf's Circadian Lighting automatically adjusts your lights to match the colour temperature based on the time of day to maximise your energy level, or relax after a long day. This feature helps to balance your natural circadian rhythm to keep your body ready for work, play or sleep.
智能燈具是智能家居重要的一環,可以將我們與世界聯繫得更密切。透過簡單的個性化控制,體驗最豐富、最鮮豔的色彩,以及最亮眼的白色溫。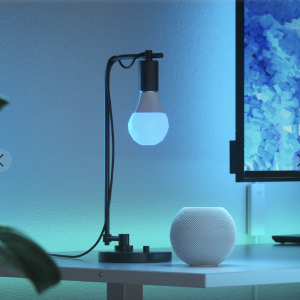 Circadian Lighting
Enjoy increased productivity and comfort with lights that change temperature to complement your body's natural clock.
Customised Schedules
Wake up naturally to a simulated sunrise, or have your lights dim automatically around evening time. All scheduling can be set using Apple Home app, or Google Home app.
16M+ Colours
Virtually limitless colour options. Choose your favourite vibrant colour or create colour-changing Scenes for the perfect ambience.
Vivid Whites
The brightest white lighting with extended temperature range from the coolest to warmest whites
The Nanoleaf App
Customise and control your lighting
Change colours or create colour Scenes
Adjust brightness and white colour temperature
Set personalised Schedules
Works with Razer Chroma
Sync brilliant colour effects across all of your Nanoleaf and Razer Chroma devices while you game!
認識 Thread 告別延遲
首創Thread-支援的智能燈光,具備提升的可靠性、快速且穩定的智能家居體驗。 從藍牙進階至此項升級技術,只需使用一部兼容的邊界路由器(像是 Apple HomePod mini 或 Apple TV 4K),連接不再間斷且能立即控制。 亦提供藍牙連接。
Thread 是一種閃電般快速、穩定的網絡技術,旨在提升您的智能家居體驗。告別延遲、斷線和樞紐,迎接更智能的家居。
能正常運作的網狀網絡
您所有的 Thread 支援裝置都會用同樣的語言來溝通和連接,以創建一個可靠而強大的網狀網絡,而不是像 WiFi 或藍牙那樣依靠單一的連接源。
為何 Thread 更好?
擴展範圍
Thread 的連接良好。Thread 網狀網絡會隨著每一個額外的 Thread 支援裝置而增長,這意味著在您的家庭有更強大的連接和更廣泛的覆蓋範圍。
更可靠
Thread 是可靠的。把這些斷線狀況留在 2020 年吧。用您的燈設定心情,不要用錯誤訊息將抹殺它。
即時控制
Thread 速度很快。瞬間回應消除了讓您猶豫未決的尷尬停頓。
無樞紐
Thread 很簡單。Thread 邊界路由器內置在您喜愛的產品中,如 HomePod mini。是終結無休止樞紐的時候了!
如何使用 Thread?
配對任何可以充當 Thread 邊界路由器的裝置,它就能正常操作。例如,如果您已經與 HomePod mini 配對,那麼 Thread 就會自動啟用,所有 Thread 支援產品,比如 Nanoleaf Essentials 燈就會神奇地開始變得閃電般快速。Apple HomePod mini 是目前第一款邊界路由器,其他很多產品也在開發過程中。
哪些產品可以和 Thread 一起使用?
Nanoleaf Essentials 燈泡和智能燈帶都已經與 Thread 配合使用。我們計畫將 Thread 整合到所有即將推出的產品中,打造統一的智能家居。 敬請期待!