折扣!
產品 Products > E27 LED 大縲絲頭 > 飛利浦燈泡 PHILIPS Light Bulb > 飛利浦 HUE 智能燈飾 PHILIPS HUE Smart Lighting > 智能燈飾 Smart Lighting
"PHILIPS HUE Bluetooth GU10 RGB" 5.7W LED GU10 RGB PAR16 Smart Bulb Single Pack (*照價再減)
Brand: PHILIPS Lighting 飛利浦燈飾
PHILIPS HUE Bulb 9W A60 E27 Smart bulb Single Pack
Bluetooth App Control*
Works with the Hue Bridge
* White and colored light
* Instant control via Bluetooth
* Control with app or voice*
* Add Hue Bridge to unlock more
Add colour to any room with a single smart bulb, which offers warm to cool white light, as well as 16 million colours. Use Bluetooth for instant light control in one room or connect to the Hue Bridge to unlock the full suite of features.
Technical Specifications
Environmental
Operational humidity
5% <H<95% (non condensing)

Operational temperature
-20°C to 45°C
Guarantee
2 years Yes
The bulb
Colour temperature 2000K-6500K
Diameter 50 mm
Fitting Gu10
Height 58 mm
Lifetime 15,000 h
Light output 16 million colours
Warm white to cool daylight
Dimmable via smart device only
Lumen output 350 lm @ 4000K
Max. operation power 5.7 W
Number of switching cycles 50,000
Rated lifetime 15,000 h
Software upgradable Yes
Start up Instant 100% light output
Wattage 5.7 W
Communication protocol Bluetooth and Zigbee
Deep dimmable Yes
Software upgradable When connected to Bluetooth App or Hue Bridge
What's in the box
* Hue bulbs 1
What's supported
* Philips Hue App
IOS 11 and later
Android 7.0 and later
Voice assistants
Amazon Alexa
Apple HomeKit (Via Hue Bridge)
Google Assistant
Microsoft Cortana (Via Hue Bridge)
Philips Hue Bluetooth App
Android 7.0 and later
IOS 11 and later
Control up to 10 lights with the Bluetooth app
With the Hue Bluetooth app, you can control your Hue smart lights in a single room of your home. Add up to 10 smart lights and control them all with just the touch of a button on your mobile device.
Control lights with your voice*
Get hands-free control of your lights and use your voice instead! Simple voice commands allow you to control multiple lights in a room or just a single lamp. *Works with the Google Assistant and Amazon Alexa.
Create a personalized experience with colorful smart light
Transform your home with over 16 million colors, instantly creating the right atmosphere for any event. With the touch of a button, you can set a festive mood for a party, turn your living room into a movie theater, enhance your home decor with color accents, and much more.
Set the right mood with warm to cool white light
These bulbs and light fixtures offer different shades of warm to cool white light. With complete dimmability from bright to low nightlights, you can tune your lights to the perfect shade and brightness of light for your daily needs.
Get the perfect light recipes for your daily activities
Make your day easier and more pleasant with four preset light recipes handcrafted especially for your daily tasks: Energize, Concentrate, Read, and Relax. The two cool-toned scenes, Energize and Concentrate, help you get going in the morning or keep your focus, while the warmer scenes of Read and Relax help support comfortable reading or calm a busy mind.
Unlock full suite of smart light features with Hue Bridge
Add a Hue Bridge (sold separately) to your smart lights to experience the full suite of Philips Hue features. With a Hue Bridge, you can add up to 50 smart lights to control throughout your home. Create routines to automate your entire smart home lighting setup. Control your lights while away from home or add accessories such as motion sensors and smart switches.
---
Paint with light
Play with light and choose from 16 million colors in the Hue app to match the light to your mood. Use a favorite photo and re-live that special moment with splashes of light. Save your favorite light settings and recall them whenever you want with the tap of a finger.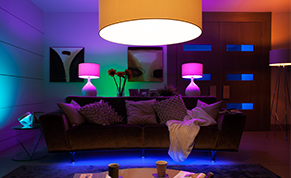 ---
Sync lights with movies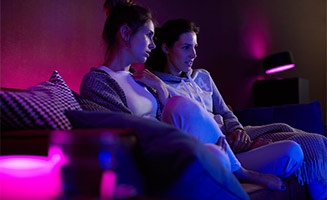 Extend your TV viewing experience to the whole room or lift your gaming experience to the next level. Download a the third party apps and discover the amazing things you can do with Philips Hue.
---
Sync lights with music
Sync light to your favorite music and enjoy every beat to the fullest. Transform any room into a dance floor and see how light reacts to your music. Download a the third party apps and get the party started with Philips Hue.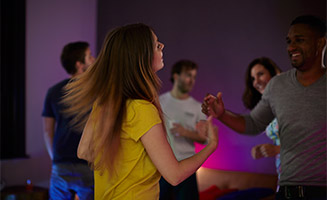 ---
Apple HomeKit compatible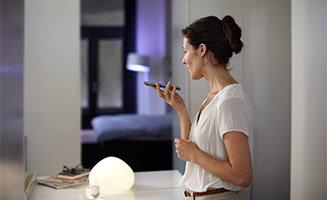 The Philips Hue white and color ambiance starter kit is compatible with Apple HomeKit technology. Ask Siri to turn on or dim your lights or recall presets without touching a single button. Via third party apps you can even link your lights to other Apple HomeKit enabled devices.
---
Create your ambiance
Set the right ambience for any moment with a range of beautiful, natural white light. Use the app to set any shade of white light, from cool energizing daylight to relaxing warm white light. So set the mood. Change the ambience. Feel different. Feel better.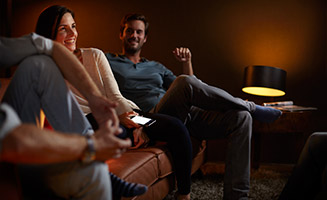 ---
Light for your well-being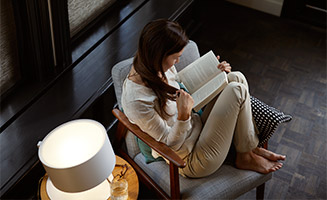 Light influences our mood, behavior, alertness and routines. Through the app, you can set the light that is optimal for your moment. Philips Hue helps you to energize, concentrate, read and relax. Customize your daily routines into moments you can enjoy. Set the mood. Change the ambiance. Feel different. Feel better.
---
Wake-up
Ease your sleeping routine and wake up gently for a fresh start of each day. Philips Hue will help get you out of bed in a nice way. The gradually increasing light intensity gives you the feeling you are waking up naturally with sunlight – rather than the rude awakening of an alarm ringing.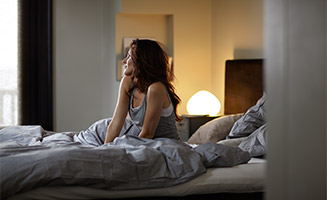 ---
Light schedules for home automation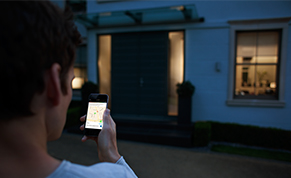 Philips Hue can make it seem like you're home when you're not, using the schedule function in the Philips Hue app. Set the lights to come on at a pre-set time, so the lights are on when you arrive home. You can even set rooms to light up at different times. And of course, you can let the lights turn off gradually in the night, so you never have to worry whether you've left any lights on
---
Away-from-home control
You can control your lights remotely wherever you are. Check if you have forgotten to switch your lights off before you left your home, and switch them on if you are working late.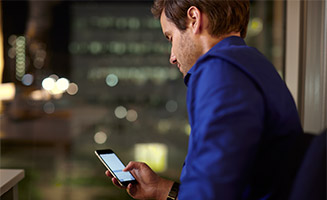 ---
Comfort dimming
Experience guaranteed smooth dimming with Philips Hue. Not too bright. Not too dark. Just right. No need for wires, an electrician or installation.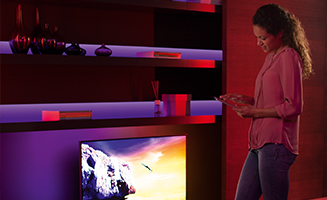 ---
Smart control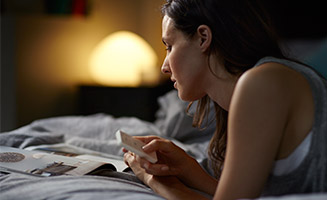 Connect your Philips Hue lights with the bridge and start discovering the endless possibilites. Control your lights from your smartphone or tablet via the Philips Hue app, or add switches to your system to activate your lights. Set timers, notifications, alarms, and more for the full Philips Hue experience.